LIFT TRUCK SCALES

SAVE TIME & SPACE USING LTS LIFT TRUCK SCALES!!
CALL NOW FOR A PRICE QUOTATION OR
TO SCEDULE A SALES VISIT!
856-227-3131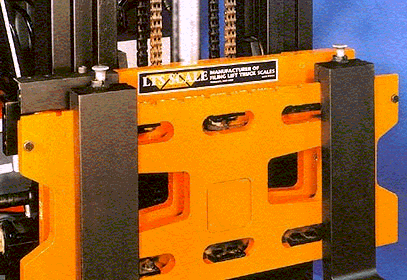 LTS Lift Truck Scales are designed to attach to most types of lift truck carriages, including Class II, Class III, Class IV, and Bar-Mount. The scales are built to the capacity of the lift trucks, and require no alteration of existing carriages.

The hydraulics of your lift truck are not connected to this system. Therefore, accuracy is not sacrificied by the condition of your truck. Make your operation much more efficient by lifting, weighing, and transporting in one step. Receiving weights will ensure that you get what you pay for and departing weights will ensure correct shipments. Use the scale to keep track of your inventory, too.
CHOOSE THE RIGHT DISPLAY FOR YOU!
DR-2000
FEATURES:

Specifically designed for the lift truck scale industry.
Engineered to be user friendly and durable for rugged environments.
Bright, easy to read red L.E.D. display.
Universal mounting bracket.
Dust and water resistant
POWER: 12 VDC, (additional converter required for 24-48 VDC)
DR-2100A
FEATURES:

Custom built for industrial "on board" weighing systems.
Instant, accurate weight readouts.
Engineered to be user friendly and durable for rugged environments.
Digital Tare.
APW entry for Piece Count.
ID entry.
Accumulation Register.
Motion Detection.
10 VDC to 50 VDC operation
Alphanumeric display.
MANY OPTIONAL FEATURES INCLUDING:
RF Transfer of information to a computer for weight verification or inventory tracking.
Setpoint controls.
Custom software.
Ticket, rolltape, and barcode printer capabilities.
Infrared Downloading.
Many, many more!
Click here to return to HOME page.